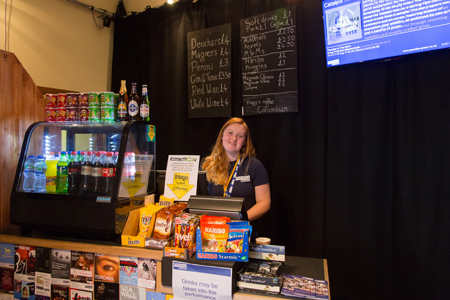 Front of House Roles
House Manager
House Managers are responsible for the day to day running of one of the venues, and is the "public face" of the venue.
Responsible for:
Communicating with companies and making sure shows start on time
Safe operation of the house
Assigning Front of House staff where required, rotating people between jobs appropriately, and ensuring staff have adequate breaks
Dealing with complaints or problems with members of the public or companies
Keeping the Front of House areas clean and tidy, and as welcoming as practical ensuring fire safety requirements are met (e.g. keeping exit routes clear)
Generally House Managers are selected from our returning volunteers and will receive training prior to the festival, although there are occasional exceptions.
Front of House Staff
Front of House staff will be rotated around various jobs. If you have a special reason for preferring not to do a particular job - for example, if English is not your first language and you don't feel happy working in the box office - you should discuss this with the House Manager on your shift. However, we do expect that people will generally do their share of all jobs.
On a shift, you can expect to spend some time doing each of the following:
Box Office -- The box office is usually the public's first contact with the venue. As well as selling tickets, the box office acts as a communication centre within the venue, especially in case of evacuation, when the box office has specific responsibilities as detailed in the Evacuation Procedures. 
Snack Bars -- Each venue has a Snack Bar which offers a wide range of snacks, hot drinks, soft drinks and alcoholic beverages.  Bar training will be provided in accordance with relevant licensing conditions. 
Usher -- This job involves managing audiences queuing for shows, making announcements to audiences, taking tickets as people enter the auditorium, showing latecomers to seats, and distributing programmes.  Ushers will sometimes be required to sit in performances, typically where the show is aimed at children.
Other tasks -- There are many other tasks you may be asked to help with, such as cleaning, creating displays of publicity materials, distributing our brochures, or accompanying somebody on a shopping trip to the cash-and-carry.
Front of House staff are responsible for:
Selling tickets and using VIA
Selling cafe and bar items
Checking tickets
Cleaning
Handling money
Front of House staff will be covered by new and returning volunteers.
Duty Assistant
The Duty Assistant is a floating member of Front of House staff who works under the Duty Manager, allowing us to flexibly meet peak demands in both of our venues.
Assists with:
Covering breaks
FOH duties
Instructions of the Duty Manager
Duty Assistants will be covered by new and returning volunteers.