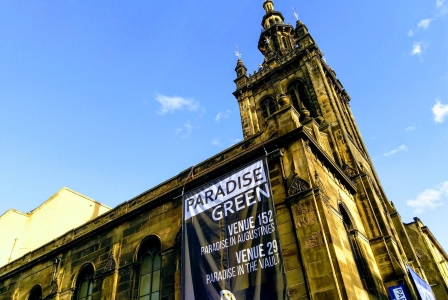 What We Provide
Accommodation
Paradise Green provides accommodation for all of its volunteers in a number of rented flats. We endeavour to ensure that all the flats we rent are close together; they are usually in the Marchmont area of the city, which is a pleasant walk of 15 minutes or so across the Meadows from the venues.
Most rooms are shared. We will do our best to accommodate couples in a double room, and to ensure that friends are placed together in the same room and/or flat though we cannot always guarantee this. On change-over nights (i.e. the nights when new volunteers arrive for the following weeks) it may also be necessary for some people to spend one night in a hostel room rented by Paradise Green or in a sleeping bag on a sofa in one of the flats.
We provide all the bedding you will require including sleeping bags, but not towels. Essentials for the flats (eg: toilet rolls and cleaning supplies) will be provided.
Food
Breakfast (cereals, bread, juices, etc) is provided in the flats.
All volunteers are entitled to free hot and cold food from the Paradise Green kitchen and tea / coffee / juices all day.
Paradise Green may also pay for you to attend training (such as Food Hygiene Certificate courses) before you come to Edinburgh, based on our needs and your stated interests.
Tickets for Shows
We offer a "reciprocal ticket" scheme whereby anyone working in (or performing in) our venues can get a free standby ticket to any show performing in any of our venues. Tickets are released on a first come first served basis about 5 minutes before each performance starts, providing there are seats available. Volunteers are positively encouraged to participate in this scheme, to become more involved with, and support, the shows in the venues.
There are also arrangements by which our volunteers can get complimentary tickets to any of the shows in several partner venues on the same basis.
Training
If you have applied for a management or technical role you may be invited to training:
House, Technical and Duty managers, this will take place on 2 dates, one will be in Manchester, the other will be in Nottingham. You are only required to attend one of these dates.
For technicians, this will take place on one day in July 2022, we will send more information closer to the time. You are only required to attend one of these dates.
Some of our training is provided through an online platform prior to arriving in Edinburgh. This training equips you with good background understanding, which is supplemented with on the job training to perfect your skills.
Travel
Volunteers are responsible for arranging and paying for their own travel to and from Edinburgh. The only exception to this is volunteers travelling to Edinburgh at the start of week 0, or leaving Edinburgh at the end of 4, for whom it may be possible to provide transport from/to the Manchester area.