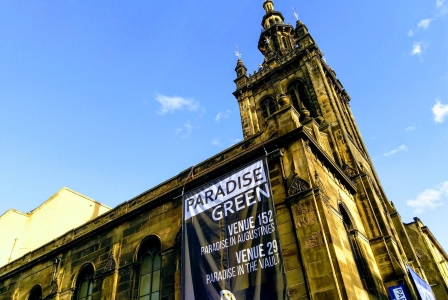 Welcome to Paradise
Paradise Green is dedicated to providing friendly Edinburgh Fringe venues, with the interests of performing groups at the very heart of our operations. We offer an all-inclusive deal with no hidden extras. That means, for example, no box office commission and no fees for our in-house marketing.
Our venues have established a reputation for fostering the spirit of the Fringe. We showcase productions of all kinds from established classics to new writing, and of all sizes from solo performances to large-cast musicals. Both the venues are close together in the heart of the Old Town, just minutes from the Royal Mile.
Paradise Green is a not-for-profit organisation, and our team is made up of volunteers brought together by their love of performance and their desire to experience the Fringe. By working together to support both our companies and their audiences, we aim to make our venues the most welcoming at the Fringe.
We are committed to programming a diverse and exciting mix of performing arts, reflecting the best that the Fringe can offer. Previous productions in our venues have won Fringe First, Total Theatre and Spirit of the Fringe awards and have received nominations for many others.
We're here to make your experience of the Edinburgh Festival Fringe enjoyable and productive, whatever your aspirations are for your show!