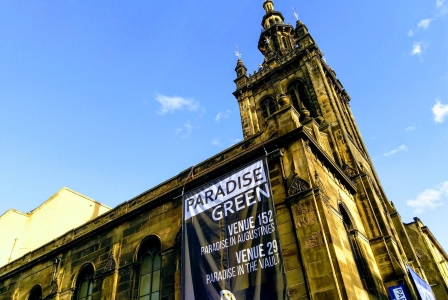 Our Pricing
This page will help you get an idea of what it will cost to bring your show to Paradise Green. You can enter your choice of performance space, and the preferred times and weeks for your show, to get an estimate of what we will charge you; and you can explore different possibilities of these to see the effect on the cost. This may help you decide which are your preferred performance spaces and times, and which you would accept even if they are not your first choice.
Our prices are all-inclusive, and we do not take a box office split. Your quote will be for the complete costs of hiring the venue for the full run of performances. All prices are quoted in pounds sterling and are inclusive of VAT.
You do not have to pay the full fee immediately upon accepting an offer for a performance slot. A deposit of £100 is required when you sign a contract with us, with the remainder of the fee payable in four equal instalments before the Fringe.
2024 Dates
Preview: Friday 2nd August (Week 1 shows only)
Week 1: Saturday 3rd August - Saturday 10th August
Week 2: Monday 12th August - Saturday 17th August
Week 3: Monday 19th August - Sunday 25th August
Timings
Bookings can be taken for almost any length of slot over one hour, according to your needs, and fractions of an hour are charged pro-rata.
The slot must include time for your get-in and get-out before and after each performance.
The minimum get-in/get-out time is 20 minutes before and after your performance in the Sanctuary and Studio, 15 minutes in the Vault, the Annexe, and the Snug. Shows with extensive technical set-up, substantial sets or lots of props must allow extra get-in and get-out time.
Bookings may be for the full length of the festival, or any combination of full weeks.
Please note that we will not necessarily be able to fit your show in at precisely the time you have asked for, and so the price may be different: if we make you an offer, we will make clear the price we will actually charge (or the most we will charge, if we make an offer with some variability in time).
Multi-week Discounts
We welcome shows for single weeks, but offer the following discounts to shows joining us for multiple weeks:
2 week runs: 5%
3 week runs: 10%